National Pyjama Day
On Friday 17th July, we joined in on the comfiest day of the year by wearing our pyjamas, to help raise funds and awareness for children in foster care.
---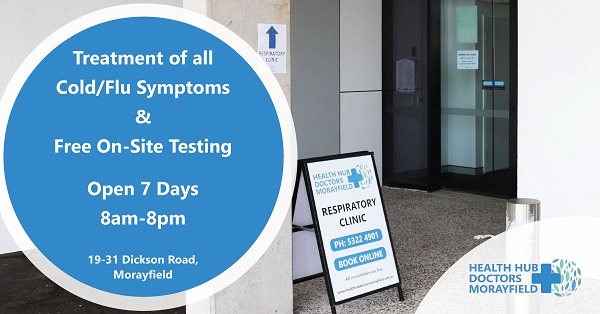 If you have any cold/flu symptoms including sore throat, cough, runny nose, fever or shortness of breath, you will be seen in our dedicated respiratory clinic. Find out more HERE
Our dedicated respiratory clinic is located in a separate part of the building to our normal GP clinic which means that general patients have no contact with respiratory patients.
---
National Pain Week
National Pain Week recognises the needs of those Australians living with Chronic Pain.
Here at Health Hub Doctors Morayfield, we offer a pain group which is led by our Musculoskeletal Specialist, Dr Scott Masters. This group is run fortnightly over the course of 8 weeks and focusses on educating patients about their pain.
See your GP at your next visit for more information.
---
Dr David Shahar - Chiropractor
Sciatica or lower back pain may be debilitating and interfering with your work and lifestyle. Did you know that Chiropractic manipulation may help? Dr David Shahar has more than 20 years experience in helping people with such problems.
Click HERE to book an appointment with Dr David Shahar.
P.S. Care plan visits with Dr David Shahar are fully bulk-billed.
---
If you are experiencing troubling issues, such as PTSD, anxiety, sleep disorders, or addiction, then our innovative brain therapy can help. Brain Treatment Centre Australia, offer MeRT (magnetic e-resonance therapy) to help with a variety of common and not-so-common concerns by addressing the root cause: your brain dysfunction. Many of our clients have experienced a range of benefits after obtaining treatments with us. We design our holistic therapies to be part of an overall treatment plan to help the client achieve the best results possible.
MeRT is a targeted and individualised form of transcranial magnetic stimulation (rTMS) therapy. However, unlike conventional rTMS, MeRT uses regular EEG recordings to monitor the person's progress and deliver special treatment protocols designed to optimise brain function. The results of MeRT are highly individual, depending on the person receiving treatment. BTC is conveniently located in Health Hub Morayfield, please call 1300 428 228.
---
Provita Safety Services On-Site Wednesdays 7am-3pm
---
---